Description
1. TILTING LARGE DESKTOP: Sprite Desk has a large desktop: L76.50cm x W55.50cm, offering children an extensive working area.
It is made of top quality MDF board, with a thickness of 21.45mm (vs. the desktop thickness of low end desks around 18mm to 19mm).
The desktop can be tilted at different angles between 0 and 50 degrees for children to read, write and paint.
It is made of MDF coated with melamine, so can be painted on by children using water colour paint, then wiped clean (Water Colour Paint ONLY), which is really fun for young budding artists.
2. HIGH BUILD QUALITY MATERIALS:
The tubular steel frame is 70.26mm thick, the thickest frame among all similar products on the market, sturdy and long lasting.
The chair seat is made of high-density polyethylene (HDPE), very robust. We have never received any feedback regarding this type of chair being cracked during normal use. Sprite chair has a unique design with front facing supporting bar, which adds stability and comfort for children.
Both desk and chair have a U shape connecting bar offers the best stability. With a foot rest, the desk is very comfortable.
3. BEAR THEME LAMP AND BOOKSTAND WITH SLIDING CLIPS:
Sprite desk set has a bear theme LED Lamp. The LED Lamp has a digital display, showing date, time and room temperature. The mains powered lamp also features an alarm with child friendly tunes, to make getting up for school more fun.
Our new Sprite bookstand is made of ABS hard wearing plastic. It incorporates colour coded sliding clips to securely fix books or tablets, with a small cute bear feature.The bookstand is practical for children to hold their books or tablets when reading and writing.
4. WINDING  HANDLE TO ADJUST HEIGHT
New Sprite includes a colour coded winding handle to raise and lower the desk to the required height. This removes the need to lift and lower by pulling the desk up as before. The chair still needs to be lifted to the desired height, and to lower pull all the way to the top then lower to the bottom.
Materials:
MDF (white surface coated with melamine): Desktop
EVA Plastic (for soft touch): Desktop edges
HDPE (hard wearing): Chair Seat and Chair Back
Tubular Steel: Desk Frame and Chair Frame
Dimensions:
Desk: L 76.50cm x W 55cm x H 52cm – 76cm
Chair: L 38cm x L 36cm x H 33cm – 45cm
Weight:
Net Weight: 19.50kg
Gross Weight: 22kg
How to Adjust the Height:
Desk:
Loosen the colour coded adjusting knobs, wind the winding handle to adjust the desk height, then tighten the colour coded knobs.
Chair: 
1. To raise:
(1) Loosen the colour coded adjusting knobs;
(2) Gently lift up the desk/chair notch by notch to the desired height, and you will hear "click" sound at each level;
(3) When the ideal height is reached, please tighten the knobs.
2. To lower:
(1) Loosen the colour coded adjusting knobs;
(2) Gently lift up the desk/chair notch by notch all the way to the top, a little bit higher than the highest level, then push down to the bottom, i.e. the lowest level;
(3) From this lowest level, you can adjust to the desired height as above.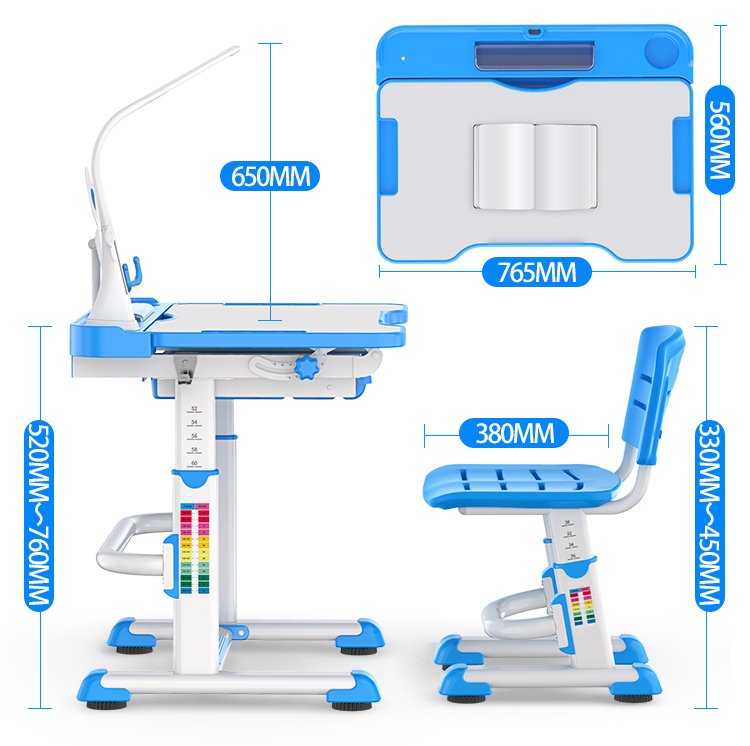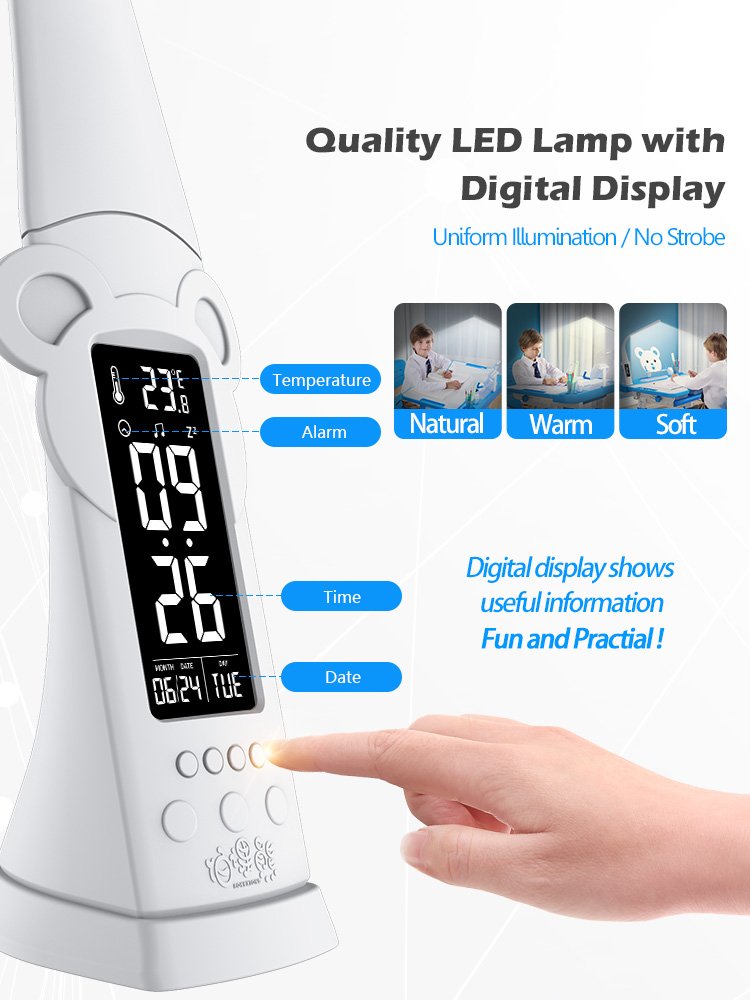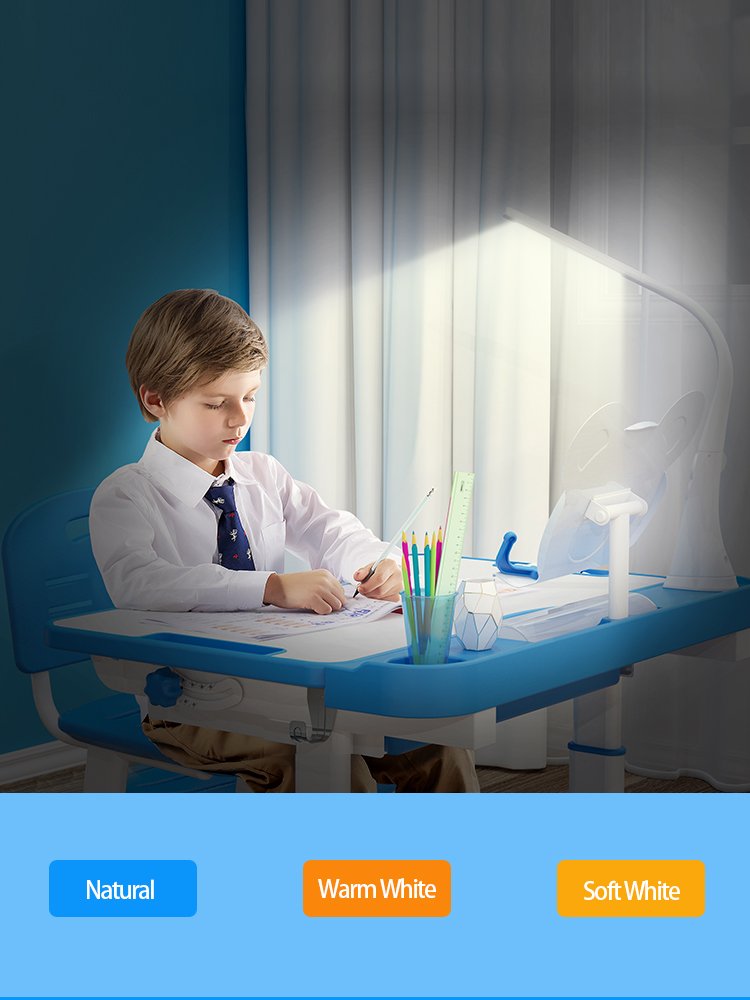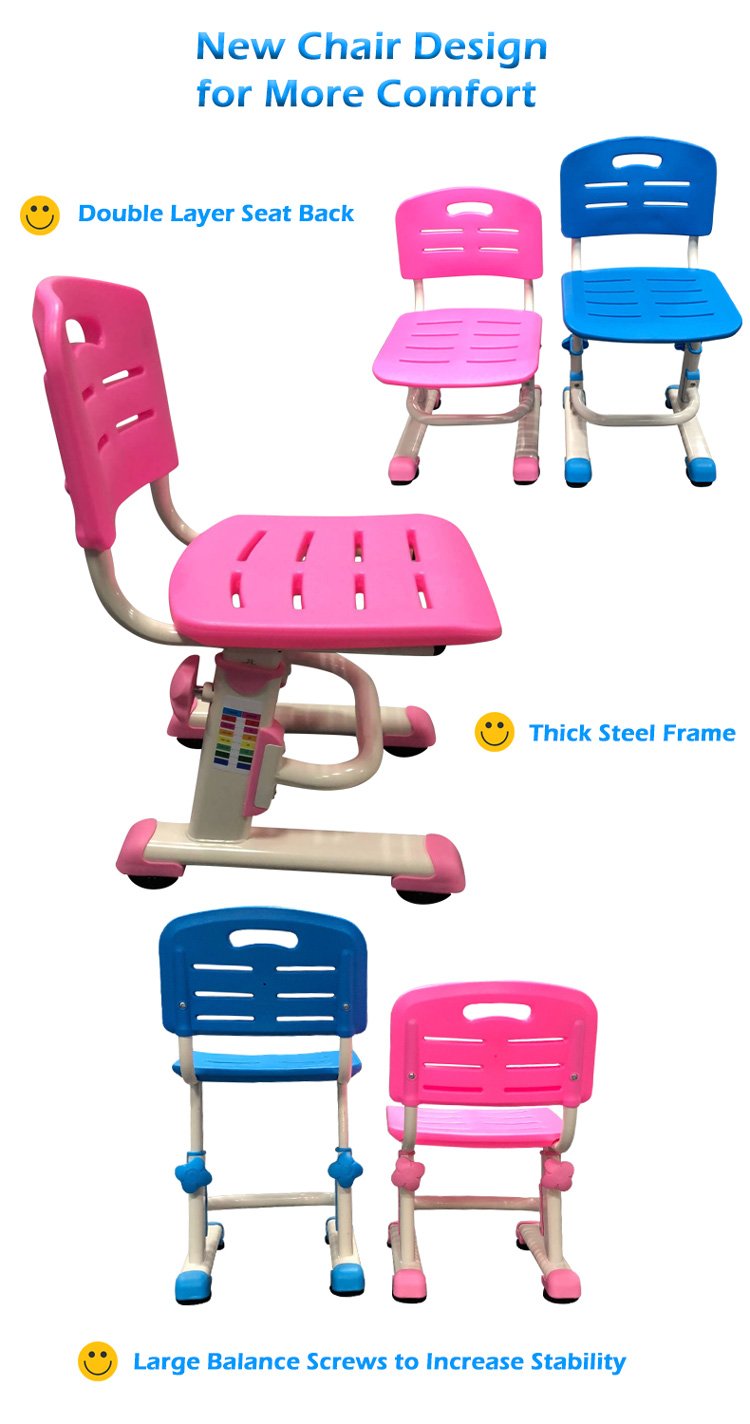 Sprite Blue Desk
Average rating:
0 reviews