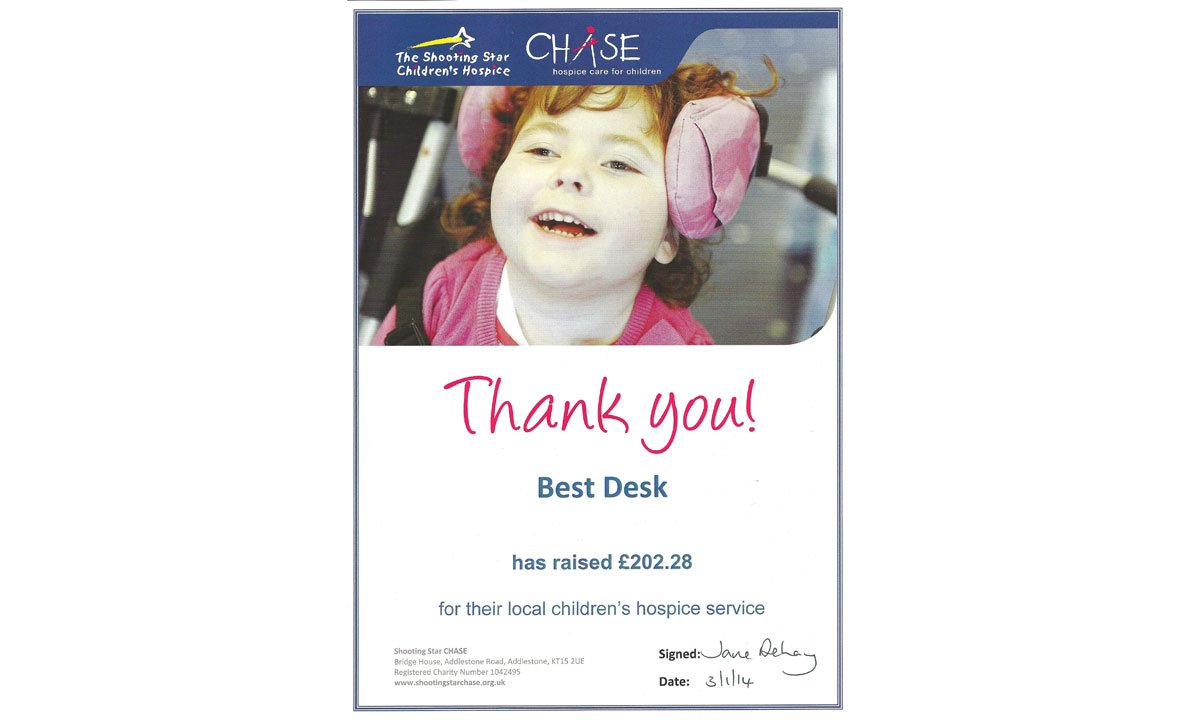 As a result of our Movember fundraising drive, Best Desk is delighted to tell all our friends and customers that we succeeded in raising £202.28 for our local children's hospice Shooting Star CHASE.  Our head of marketing, Douglas Scott, grew a droopy 'tache for the whole of November and, for each desk and chair set we sold, we donated £2 to this well deserving charity.  As well as donations from our sales, collecting tins helped raised further cash at school Christmas fairs towards the end of the month.
Shooting Star CHASE is a children's hospice service local to Best Desk. It is a charity caring for local families with a child or teenager with a life-limiting condition. Currently Shooting Star helps over 600 families living in western London, Surrey and West Sussex.
The Shooting Star Trust was founded in 1995 by Kathryn Turner MBE. After seven years of capital fundraising, the construction of Shooting Star House commenced in January 2003 and took two years to complete. Shooting Star House welcomed its first family in August 2005 and the hospice was officially opened by HRH The Prince of Wales and The Duchess of Cornwall in February 2006.
CHASE started in 1990, prompted by an article in a national newspaper describing the plight of a family with a child with a life-limiting condition, Julia Lever MBE set up a fundraising group to support Acorns, a children's hospice service in Birmingham. Julia then turned her attention to starting a children's hospice service in her own area. On 10 May 1999, enough money had been raised for the Community Team to start work. Shooting Star CHASE Royal Patron HRH The Countess of Wessex officially opened Christopher's in 2002.
On 1 April 2011 these two charities merged to become Shooting Star CHASE.
If you would like to make a donation yourself please go to: http://www.shootingstarchase.org.uk/support-us
As we welcome the New Year we'd like to thank all our customers for their support in achieving this excellent result.
Local charities will continue to receive support from Best Desk throughout 2014.