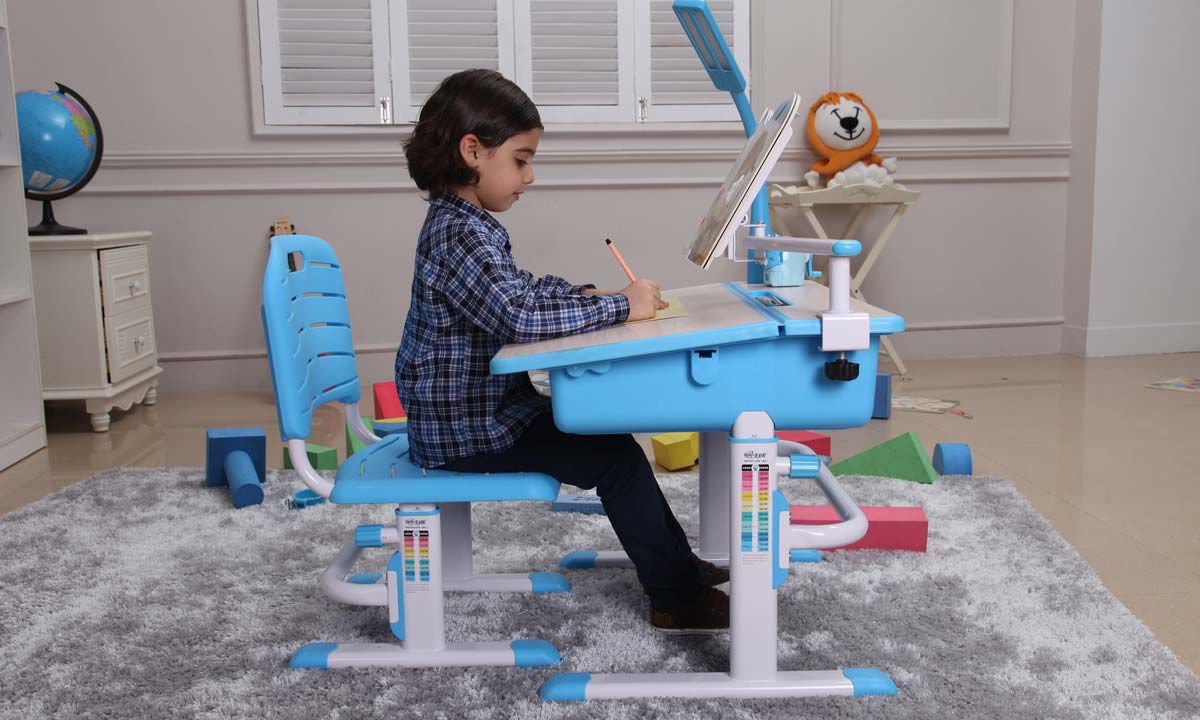 Maxi is a kids height adjustable desk chair set with the "traditional" school desk look. It is a desk with a lid, which lifts up safely by way of a hydraulic strut giving access to the spacious storage area underneath. The desktop is angled at 6.9o, an international standard angle for writing.
The seatback of the height adjustable chair is ventilated to create better airflow. An optional bookstand which rotates through 360 degrees, LED lamp and seat pads are great accessories for Maxi desks and chairs.
Features:
Largest desktop among all five designs
Thickest tubular steel frame among all five designs
Suits ages 3 to 16
Height adjustable
Desktop at the best writing angle (6.9o)
Desktop can be lifted up
Large drawer for storing books and stationery
Promotes good posture and vision
Easy to assemble (and children can help, too!)
Bookstand, LED lamp and seat pads can be purchased as extras
Materials:
MDF (woodgrain effect inlay): desktop
ABS plastic: desktop edges, chair seat, chair back
Tubular steel: desk frame and chair frame
Dimensions:
Desk: L 70cm x W 55cm x H 52cm – 76cm
Chair: L 38cm x W 34cm x H 30cm – 44cm
Weight:
Trivia
Maxi green used to be called Maxi Gerry. In fact, children may wish to give their study buddies other cute names, so we'll keep our desk names simple. It is Maxi green, a beautiful and practical desk chair set that will last for many years.
Best Desk - Quality Kids Desks Chairs and Storage
Average rating:
2 reviews
Oct 21, 2014
Maxi Pink
October 21st 2014 Thank you for the best quality and design desk and quickest delivery ever only took one day and that's the second one I have ordered. Excellent in every way. S Murray . Langholm.
Apr 11, 2014
A greatly designed product and well priced
My little one is enjoying her new desk. I am equally delighted with the design, quality and everything about it. A greatly designed product and well priced too given the high quality make.